Universal-Delta pyramid-shaped electromagnetic wave absorbers are used for lining anechoic chambers for testing radio wave emitting equipment and antennae of various use, as well as shielded rooms for radio compatibility testing. Additional uses include personnel protection against electromagnetic radiation.
Universal-Delta patented absorbers are pyramid-shaped flame-resistant polymer material containers filled with non-combustible electromagnetic absorbent mixes of two kinds: carbon fiber-based dry mix or foam glass granules with internal absorption, either of which ensures stable performance and operation.

Production of Universal-Delta absorbers has a three stage quality control: initial assessment of raw materials, continuous measurement of characteristics of absorbent mix, and final measurements of completed units under standard, to ensure high electromagnetic absorption performance.

Universal-Delta absorbers are classified as fire resistant (Certificate 9023736000) and environmentally safe absorbent materials (Certificate 55178729-12-1).
Product description
Universal-Delta RF absorbers are pyramid shaped containers filled with RF absorbing mix.  At present, two standard size units are produced:
100 x 100 x 320 mm (Type A, AM, CF);
165 x 165 x 580 mm (Type B, BM).
To expand the product range, reduce weight and facilitate mounting, Universal-Delta RF absorber can be supplied as Type D block, consisting of nine 65x65x200 mm units, with overall dimensions of 200x200x200 mm.
The picture shows Universal-Delta RF absorbers of the following dimensions of 100х100х320 mm, 165х165х580 mm and 200х200х200 mm.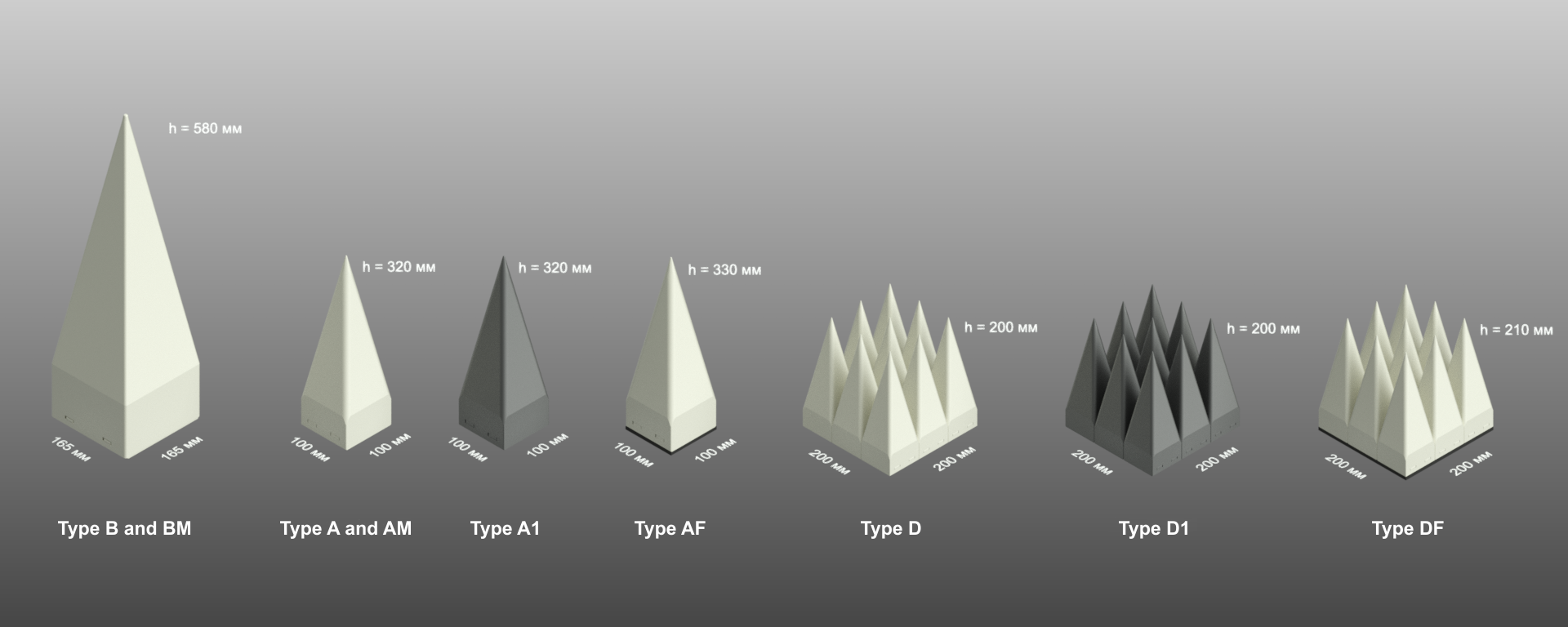 Each container is shaped as a square pyramid, with locking cover at its base.  External edges are rounded, to reduce UHF wave reflection. Containers are made from strong radio transparent fire resistant polymer material of two types:
Polystyrene (PS) V-0, UL94 (working temperature range -50ºC to +80ºC);
Polyamide (PA) V-0, UL94 (working temperature range -50ºC to +250ºC).
The cover has mounting fixtures of one of following types:
DIN rails;
Knauf system PP 60, PS 100;
universal mount (patented)  – this can be used for combined RF absorber units with ferrite tiles.
Container covers have product ID markings.
Depending on required technical and operational specifications, containers can be filled with different absorbent mixes. Two types of RF absorbents are currently used:
EVU – dry mix of highly stable compo-nents with optimal ratio of cellulose materials and carbon fibers (working temperature range -50ºC to +200ºC);
PGV – foam glass granules with internal absorption (working temperature range -50ºC to +500ºC).
Foam glass granules (PGV) – due to their sealed cell structure – and dry mix (EVU) sustain extreme heating without deterioration in their RF absorbent qualities. PGV granules are a loose RF absorbent filler.